Embossed VCI Bearing Wrap
Bearing Tape Stays Tight, Prevents Corrosion on Precision Machined Metals
Corrosion inhibitor (VCI) film with an embossed texture that grips, stays in place around large bearings and round shapes. Used as a final wrap, the VCI bearing tape holds layers of rust inhibiting materials together. Premium Metal-Guard® in the film effectively prevents corrosion on packaged steel, stainless steel, cast iron, galvanized, nickel and nickel-plated, copper and a wide range of ferrous/non-ferrous metals.
Benefits
Long-term protection against corrosive effects of moisture, salt, and other contaminants
Eliminate extra costs of additional packaging such as bags, bands, or preservative oils
Tear-resistant, strong, durable, and flexible
Odorless, non-toxic, easy to handle and safe to use
RoHS and TRGS615 compliant
Recyclable
Typical Applications
Use in automatic packaging of bearings and precision machined parts to dramatically increase speed of production output
Best for applications where high strength, stretch, and corrosion protection are needed
Available in Daubert® blue, black, white, and a range of colors, roll widths and lengths. 
Click here to request more information for this item.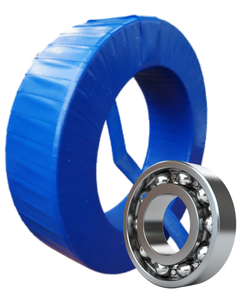 Are you interested in any of our VCI products?