Preservation Technologies for Asset Integrity
Daubert Cromwell offers a complete range of field-tested and proven corrosion prevention VCI solutions for the Oil & Gas Industry. We have partnered with OneSource AS, the Norway-based preservation solution provider for onshore and offshore oil and gas and offshore rig preservation for stacking and lay-ups. This strategic alliance combines the best technical expertise in greenfield and brownfield projects, stacking, preservation, and engineering with the VCI solutions proven to protect and extend the life of industrial equipment.
Oil & Gas Preservation Technologies 
Daubrite® VCI Emitters and Devices | Corrosion Preventive Liquids | Rust Removers | Premium Metal-Guard® VCI Film | X-O Wrap Shrink Film | Versil-Pak Waterproof Barrier Material
Learn more about our Oil & Gas Preservation products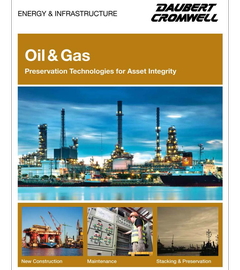 Many other products are used in various components for the Oil & Gas industry. Click to see how VCI is used to prevent corrosion in many other applications.
Are you interested in any of our VCI products?