Premium Metal-Guard® VCI Masking Film
Premium Metal-Guard VCI Adhesive Masking Film / VCI Tape is an adhesive, pressure-sensitive, corrosion-preventive film designed to protect metal surfaces that are difficult to package in VCI paper or film.
Adheres firmly to metal surface and peels off clean, leaving no residue
The blue, water-based acrylic adhesive is clear, odorless, lightweight and safe
Protects metal surfaces against scratches, marring, and corrosion
Designed for temporary protection of exposed metal surfaces during all phases of manufacture, storage and handling
Strong, transparent film protects the metal against defects and prevents corrosion for up to 6 months indoors
Easy to use: simply apply the film directly to a clean, dry metal surface.
Premium Metal-Guard VCI masking film and VCI tape will withstand roll forming, bending, cutting and stamping, making it ideal for use in metal fabrications, metal service centers, doors and trim works, and heavy duty industrial equipment and machines that are stored indoors.
Use it in applications where:
Metal surfaces need to remain corrosion-free and flawless until ready for use,
It is labor-intense or impractical to rework, repaint and remove surface imperfections by hand,
Quality of the finished part is an important part of a quality system.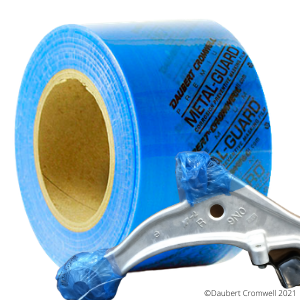 Are you interested in any of our VCI products?