Nox-Rust Poly Wrap
Woven Coated Fabric with VCI
Nox-Rust Poly Wrap VCI all-poly fabric is excellent for wrapping steel coils, steel sheeting and equipment requiring physical and corrosion protection. The unique 100% woven polyolefin structure and special polyolefin coatings provide superior tear strength and abrasion resistance.
Benefits
Lightweight fabric is durable, flexible and folds easily, but is strong enough to withstand the stresses when packaging steel coils.
Tight weave construction and special impermeable poly coating on each side provide excellent protection against moisture and moisture vapor transmission.
Designed to protect carbon steel, galvanized steel, stainless steel, aluminum, and brass during storage and export.
The inner surface of the fabric is impregnated with proprietary VCI to keep the metal free of rust and oxidation.
Recyclable.
Click here to request more information for this item.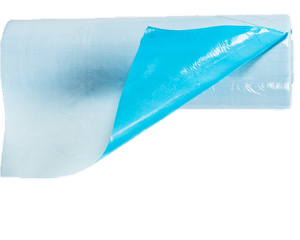 Are you interested in any of our VCI products?