Silver-Guard™ Anti-Tarnish Film
Silver-Guard is a heat-sealable, non-dusting, polyethylene film designed to protect silver-plated and precious metals from tarnish due to oxidation and sulfide vapor. Silver-Guard works by removing sulfide vapors from within a closed environment. Unlike other types of packaging, film may be placed in direct contact with metal without risk of staining or discoloration.
Silver-Guard will not contaminate polished surfaces by leaving particulates or residue.  Film will not affect solderability, conductivity or coatings.  Properly packaged metal remains ready to use without further cleaning or rework. Parts are visible through the transparent film, allowing inspection without opening.
Silver-Guard anti-tarnish film is designed to protect valuable parts in: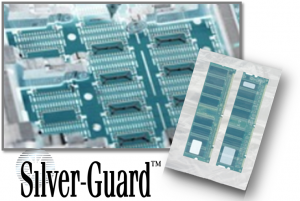 Aerospace and aviation
Electronics
Controls, instruments, sensors
Jewelry
Musical instruments and strings
Click here to view Silver Guard technical data sheet.
Click here to request more information for this item.
Are you interested in any of our VCI products?