Renewables Preservation Technologies for Asset Integrity
Daubert Cromwell offers a complete line of corrosion preventive VCI solutions for the Renewables Industry.
New Wind Construction:  Corrosion protection of nacelle, gearbox, generator, control and power electronics during construction. Ocean transit, commissioning, and during maintenance operations.
Solar:  Photovoltaics require silver to maintain optimal electroconductive qualities. Protecting them from corrosion is critical for maintaining asset integrity.
Transmission & Distribution:  Platform equipment, electronics and infrastructire needs corrosion protection for extended operating and reduced replacement costs.
Silver-Guard™ Anti-Tarnish Film | Silver Saver® Anti-Tarnish Paper | Daubrite® VCI Emitters and Devices | Premium Metal-Guard® VCI Film | X-O Wrap Shrink Film | Versil-Pak Waterproof Barrier Material | Nox-Rust 1100 Lubricating VCI Oil
Learn more about our Renewables Preservation products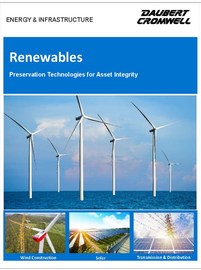 Many other products are used in various components for the Oil & Gas industry. Click to see how VCI is used to prevent corrosion in many other applications.
Are you interested in any of our VCI products?