Uniwrap® 40PCMPI VCI Paper
40PCMPI provides excellent corrosion protection for ferrous/non-ferrous combination metals including cadmium and zinc-galvanized steel. The poly-coated kraft works as a moisture barrier against corrosion-carrying elements in the environment.
40 lb./65 gsm² natural kraft paper, poly-coated
Saturated with Daubert Cromwell's multi-metal corrosion inhibitor formulation
Parts remain clean, dry and ready to use
Please click here to request more information for this item.
Learn more about our Multi-Metal VCI Papers
Uniwrap
Reinforced Papers
PC50MPI Scrim, poly-coated, tri-directional scrim designed to work as sheeting and interleaving material between heavy steel rolls and pallets
Uniwrap 94MPI Woven, heavy-duty, durable, reinforced paper where maximum strength and tear resistance is needed, such as in coil wrap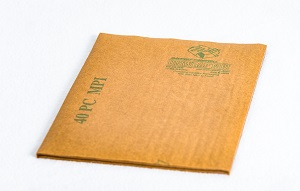 Are you interested in any of our VCI products?