Nox-Rust® Vapor Wrapper® VW35D VCI Paper
VW35D paper is the industry standard for protecting steel, cast iron and ferrous alloys, without need for surface-applied oils or rust preventive liquids.
35 lb./ 57 gsm² natural kraft paper
Saturated both sides with Daubert Cromwell ferrous volatile corrosion inhibitor formulation
Designed for general and long term storage of ferrous metals
VCI paper provides a protective layer of safe, odorless chemicals as a barrier between the metal surface and contaminants in the environment
 Click here to request more information for this item.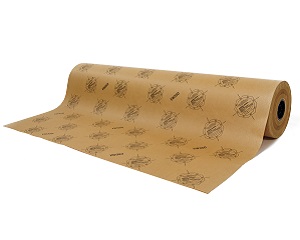 Learn more about our Ferrous-Protection VCI Papers
Nox-Rust Vapor Wrapper    
Protek Wrap     
Military Grades
Reinforced Papers
Ferro-Galv
Are you interested in any of our VCI products?