Coppertex
Protect copper from corrosion and tarnish.
Coppertex packaging paper protects copper, brass, bronze, and other copper alloys from tarnish and corrosion.
Nitrite-free, 35lb./57 gsm² natural kraft
Saturated both sides with a specially formulated Daubert Cromwell volatile corrosion inhibitor
How to protect copper from tarnishing: use Coppertex as an interleaver for wrapping copper sheets and tubing; as wrap for copper wire and cable; and to individually wrap parts and components used in automotive and electronics assemblies.
Many uses and applications:
Electronics: copper wire, circuit boards, test equipment, electrical connectors and contacts, electric parts, cable reels
Aerospace components that are electroplated with copper - protects copper wire and cable in electrical assemblies
Copper foil used in manufacturing processes
Copper plated wires, wiring harnesses, cables
Fabricated copper components such as washers, tube coils, tire bead, caps, lugs
Welding/brazing wire
Copper sheets, bars, tubing
Protect slower moving inventory of copper components
Other Specialty Anti-Tarnish Papers:
Alumitex® - protects aluminum, galvanized steel and lead alloys
Silver Saver® - protects silver, gold, and noble metals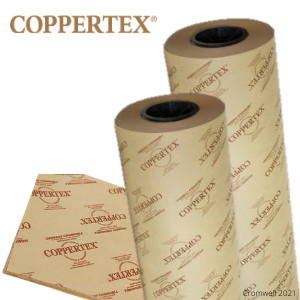 Are you interested in any of our VCI products?